Magic Gypsy Horse Ranch
VALORIE'S VANNERS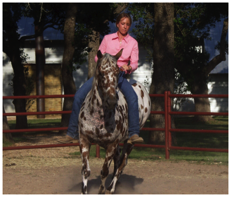 Rebecca began her career with horses at the age of nine as a volunteer at an equestrian program of a children's camp. Over the next five years she accumulated over three thousand hours working with children and horses. She pursued a show career during that time with her double registered palomino quarter horse "Suz Impressive Man". They showed in Open and 4H Western Pleasure, Halter, Trail, Showmanship and Horsemanship classes.
Following that, Rebecca became a horse trainer and riding instructor at a local ranch for three years where she taught children and adult riding, and horse management lessons. In addition she started colts, and worked with difficult horses.
In 2003 she traveled to Pagosa Springs, Colorado at the Parelli International Study Center to participate in a ten week course. Upon completion of this course she was awarded her level 2 in Parelli Natural Horsemanship.
She started her own training business at that time ("G Squared") and brought that business to Magic Gypsy Horse Ranch in May 2008. She has made herself invaluable to the ranch. She does literally everything that needs to be done with the horses that doesn't require a Vet degree. She has added to her knowledge base by taking reproduction specialty courses at A&M, and hands on training with an established area expert. She tells us she has found Gypsy horses to be a delight to work with. We are equally delighted to have Rebecca's talent and services available to us.
In addition to all of this, she is studying and self training to be tested for her Parelli level 3.
That beautiful horse she is riding in the pictures is hers, and is not for sale.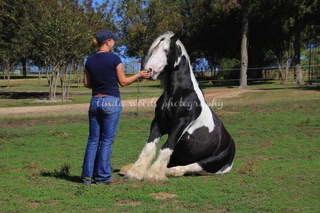 Duties:
Ranch Manager and Trainer
Magic Gypsy Horse Ranch