Magic Gypsy Horse Ranch
VALORIE'S VANNERS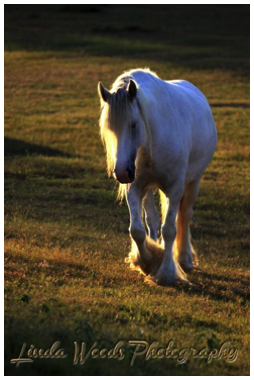 GYPSY HORSE NAME:
"AARONN"
Age OR DOB: 2006
Color:
Grey
Height:
14.0 hands
Disposition:
Extremely Gentle
Origin:
England
SIRE: Very heavy black Lob Ear Son
Dam: Dapple Grey mare
Aaronn was imported in December 2008, from "Clononeen Farms" in England. She has an incredibly sweet nature, and wants to please you. There is something almost mystical about her. She had her first foal on 3/13/10 (Sired by Bandon) and her filly "Buttercup" is exquisite. Oct 2011, she foaled another filly, "Savi", (gorgeous) sired by Smokey. She foaled an excellent colt, sired by Darren, in May 2013, now owned by Rebecca Gillman (our ranch manager and trainer, and her husband Reid). Aaronn foaled a beautiful gray tobiano filly "Starlight" in May of 2014, sired by Bandon.
Click on this link to see her with Blackberry as yearlings together in England.